Today I went to John Lewis and had a wander around the furniture section and was very impressed. So impressed with one particular designer that I felt the need to tell all you guys / gals about her. Bethan Gray is a leading furniture and lighting designer who works for many leading manufacturers and retailers. The studio ethos is simple design with intriguing details to excite. They certainly deliver on this. Their love for high quality craftsmanship, solid honest materials, shapes and textures ensures all the final products have a unique flavour.
Slide, featured above, is a very cool shelving unit where functionality is not compromised. The interesting mix of white sliding doors and shelving allows you to hide those bits and bobs in your minimalist contemporary flat.
Noah is a family of pieces using high quality natural materials to create a luxurious range, with great durability and practicality. Not only does it look good but it has the ability to extend to suit any situation. The simple lines, clean joints and honest use of materials create a unique design. This restricted use of materials and finishes creates a unified modern design, suitable for any designer pad. The table set below made from solid oak, veneer and painted MDF tops with an A-frame base are a nice set of tables. The contrast between the different finishes and materials are simple but effective in uniting them with the rest of the Noah range.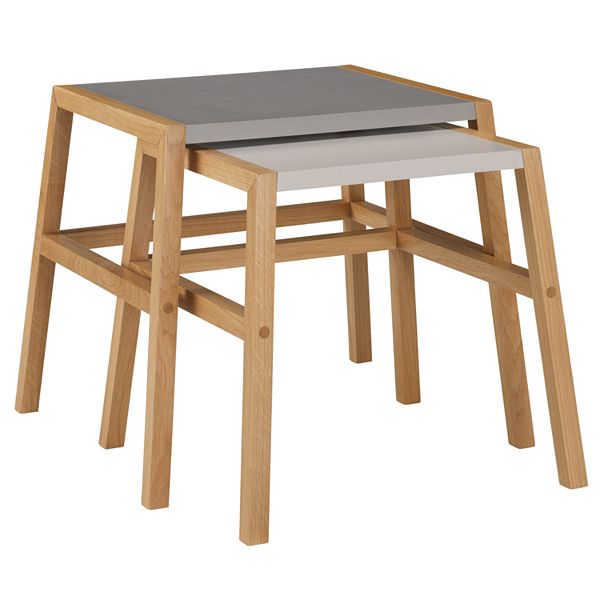 I really admire Bethan Grays design philosophy. The idea of using honest materials, craftsmanship and simple solutions to create unique, new, fascinating and practical designs is something I believe gets lost in the techno society we live in today. Not only is her work visually great but functionality and everyday practicality is not reduced or restricted. Very glad I popped into John Lewis and great work Bethan!
Some more of Bethan's work is below…